Rachel Laurin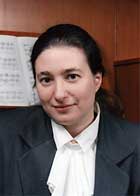 Organist and composer, Rachel Laurin was born in l96l, in St-Benoît, Province of Quebec, Canada. At the age of nine, she began piano lessons with her mother. From 1980 to 1986, she studied at the Montreal Conservatory, where she became the pupil and disciple of her principal teacher, Raymond Daveluy. Her other teachers were Gaston and Lucienne Arel (organ), Raoul Sosa (piano) and Nick Ayoub (jazz). She has performed organ recitals in major cities in Canada, the United States and Europe, and has made more than eleven recordings on the Motette (Germany), Musicus, Musicus/Fidelio, Riche Lieu, SRC (Société Radio-Canada), DJA (France) and BND labels, including CDs devoted to the Five Organ Sonatas by Raymond Daveluy and her own transcriptions of works by Liszt, Brahms and Bach. In 2000 in Montreal, and 2001, in Ottawa, she played the six organ Symphonies of Louis Vierne, in three recitals. In 2002, at the inauguration of the Edmonton Winspear Center's new Létourneau organ, she played the premiere of Jacques Hétu's Concerto for Organ with the Edmonton Symphony Orchestra conducted by Mario Bernardi.
Rachel Laurin has been an Associate Composer of the Canadian Music Centre since l989. She has composed more than fifty works for various instruments and instrumental ensembles. These works have been performed and recorded in major cities in America, Europe, Asia and South Africa. Her compositions are published by Les Éditions Lucarel (Canada), Europart-Music (France), Doberman (Canada), and Wayne Leupold (USA). Since November 2006, she is "House Composer" for Wayne Leupold Editions. In December 2005, a complete CD devoted to her chamber music was released on ATMA label ("Festivals" ACD2 2295).
She has taught organ improvisation at the Montreal Music Conservatory and at the Summer School of Sacred Music in Épinal (France), and, in 2006, was a Member of the Faculty at the Mount Royal International Summer School, in Calgary. She has won many awards including the « Prix Conrad-Letendre ». From l986 to 2002, she was Associate Organist at St-Joseph's Oratory, Montreal, and from 2002 to 2006, she was Titular Organist at Notre Dame Cathedral, Ottawa.
In the 2007-2008 season, her recitalist and composer engagements bring her, among others, to Toronto, Montreal, Calgary, Salt Lake City (UT), Baltimore (MD), Colfax (NC), St.Gallen (Switzerland), Passau, Schwäbmunchen, (Germany), Torino (Italy), etc. In 2007, she will also travel around Canada presenting organ recitals and workshops for the Royal Canadian College of Organists. As a composer, Rachel Laurin is working on a new commission to be Premiered in 2008, a Concerto for piano and orchestra.
Rachel Laurin - organ
Finale Concert - Choir & Organ
Friday, June 1, 2007
7:30 p.m
Tickets $25