David Palmer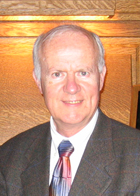 David Palmer has performed from coast to coast in Canada, and has given recitals in such American centres as San Francisco, Washington and New York. In Europe, he has played in England and France, including recitals in the cathedrals of Chartres and Notre Dame in Paris. CBC Radio has broadcast nationally many of his performances, both solos and appearances with the Windsor Symphony Orchestra. He has been a judge for several organ playing competitions, among them the nationals of the Royal Canadian College of Organists, and the semi-final round of the Second Calgary International Organ Festival.
David has developed a specialty in the keyboard music of Olivier Messiaen. In the spring of 1981, he studied with the composer's wife, Yvonne Loriod, concentrating on excerpts from Messiaen's Vingt regards sur l'Enfant-Jésus and Catalogue d'Oiseaux. Since then, he has given many workshops and lectures, and has written several articles on aspects of Messiaen's music. In October 1990, he gave the first Canadian performance of Livre du Saint Sacrement at St. James' Cathedral in Toronto, broadcast on CBC FM, and was invited to perform excerpts of the work at the Fifth International Congress of Organists in Montreal in July 1993. His CD of Méditations sur le mystère de la Sainte Trinité, recorded in the Cathedral-Basilica Mary Queen of the World in Montreal, was released in 1999. In 2005, Canadian Music Centre released his CD, Canadian Organ Showcase, recorded in the Jack Singer Concert Hall in Calgary, Alberta. Double Exposure, a CD of music for organ and piano with colleague Gregory Butler, recorded in Yorkminster Park Baptist Church in Toronto, appeared in 2008.
A native of Victoria, British Columbia, David holds degrees from the University of Michigan in Ann Arbor, where he studied with Robert Glasgow. Past-President of the Royal Canadian College of Organists, he is a Professor Emeritus in the School of Music at the University of Windsor, and is Organist and Choir Director of All Saints' Church, Windsor.
David Palmer – Organ
Thursday, May 26
12:15 – 1:00 p.m.
Suggested donation: $10.00