John Laing w/ Janet Obermeyer (Soprano) and Sophie Lanthier (Flute)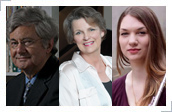 John Laing
John Laing, conductor, composer, organist and pianist, was born in London, U.K. He began to play the piano and compose at a very young age, and he became a treble chorister in the choir of King's College, Cambridge under Sir David Willcocks. At the age of twenty he became a Fellow of the Royal College of Organists. He returned to Cambridge to be Organ Scholar of Corpus Christi College, where he obtained a Bachelor of Music Degree in Organ Performance and Musicology, and a Master of Arts Degree. At the age of twenty seven he came to live in Canada.
Mr. Laing has had a distinguished career in several fields of music. An accomplished organist, harpsichordist and pianist he has given many performances in North America and Europe. He has also conducted excellent choirs in Montreal, Ottawa, Oakville, Hamilton and Toronto, including the nationally renowned John Laing Singers, which he founded, and conducted for three decades. As a church musician, his long and successful career has included the directorships of music at Cathedrals in Montreal and Hamilton, at St. Jude's Church, Oakville, where he was Founder and Director of the Celebration of the Arts concert series during its inaugural decade, and currently at The Church of the Ascension, Hamilton. During the past decade John has devoted much time and energy to composition, and his works have been widely performed to warm appreciation and recorded on acclaimed CDs by top class artists. Recently his new composition Revival, commissioned by the Hamilton Philharmonic Orchestra, was premiered at its annual contemporary music festival, and he has completed several works which are due to be premiered in 2017.
For his services to music and the community, Mr. Laing has received the "Above and Beyond" Award from the Oakville Arts Council, the Order of Niagara from the Anglican Church of Canada, Honorary Citizenship of Sarasota (Florida), the Musician of the Year Award from the City of Hamilton, the Freedom of the City of London, U.K., and the Queen's Diamond Jubilee Medal (Canada).
Janet Obermeyer
Soprano, JANET OBERMEYER, holds a Bachelor of Music degree in opera and oratorio from the Eastman School of Music. Radiating grace and charm she performs with the finest chamber ensembles and orchestras across Canada, in the United States and in Europe.
Often described as "the perfect Mozart soprano", her agile voice and alluring interpretations never fail to draw lavish praise from audiences and critics alike.
Her many credits include Mozart's Requiem with the Rochester Philharmonic; Handel's Messiah and Mendelssohn's Lobegesang Symphony II with the Toronto Symphony and Vancouver Symphony, Bach's Mass in B minor with the Buffalo Philharmonic Orchestra, Mozart's Exsultate jubilate and Grand Mass in C minor with Orchestra London; Brahms' Requiem with the Kitchener-Waterloo Symphony, and Haydn's Creation with Orchestras Mississauga. Of particular note was a premiere performance in Canada by Miss Obermeyer of the recently re-discovered seven-part master work for soprano by Georg Frederic Handel entitled, Gloria in excelsis Deo. A frequent guest artist with the finest chamber ensembles, recent performances include Britten's Les Illuminations with the Mississauga Sinfonia, Bach's St. Matthew Passion and St. John Passion with Toronto's Aradia ensemble, and the Rutter Requiem with the Rochester Oratorio Society.
In demand as a recitalist, performances have taken her to the Netherlands, England, Scotland and the United States, as well as the Liszt Memorial Museum in Budapest, and the Théâtre de La Monnaie in Brussels. Last year she returned to the Netherlands to perform Strauss' Four Last Songs, and gave performances on the Richmond Concert Series in London and for the Haddington Concert Society in Scotland. As well, Janet performs annually for the North American Liszt Society's Great Romantics Festival in Hamilton, Ontario.
She is also a vocal performance tutor at York University in Toronto and Redeemer College in Ancaster, Ontario. In October 2011, she will be adjudicating and performing at Harvard's Garrison-Liszt Competition in Baltimore, Maryland.
Among her many recordings, 'Songs of Love and Longing', the lieder of Franz Liszt, with pianist Leslie De'Ath, received international accolades.
Sophie Lanthier
Oakville flautist Sophie Lanthier is an active performer of chamber, solo, and orchestral music throughout the Greater Toronto Area and the Golden Horseshoe. She is currently a member of several chamber ensembles based in Toronto, including a flute-piano-cello trio, Trio Marzo, and a flute-viola-harp trio, Trio Alima.
As a soloist with extensive repertoire, Sophie has performed in masterclasses for some of the world's most esteemed flautists, including Paul Edmund Davies (London Symphony Orchestra), Michael Hasel (Berlin Philharmonic), Denis Bluteau (l'Orchestre Symphonique de Montréal), Paula Robison, and Lorna McGhee (Pittsburgh Symphony Orchestra). Orchestrally, she has also performed prominent principal flute parts in pieces such as Ravel's Daphnis et Chloé, Bartòk's Concerto for Orchestra, Debussy's Prélude à l'après-midi d'un faune, and piccolo in Tchaikovsky's Fourth Symphony and Stravinsky's Petrouchka.
In addition to maintaining an active performance career, Sophie is a passionate music educator, teaching flute, history, and theory at the Oakville School of Music and Performing Arts since 2012 and successfully preparing students for Royal Conservatory examinations and university entrance auditions.
Sophie recently received her Bachelor of Music degree in Flute Performance with Honours from the University of Toronto, where she studied with former Principal Flautist of the Toronto Symphony Orchestra, Nora Shulman. She is currently a first year ADP student on full-tuition scholarship at the Glenn Gould School, where she studies with world-renowned soloist, Susan Hoeppner. In addition, she holds an ARCT Diploma in Flute Performance with First Class Honours and Distinction from the Royal Conservatory of Music. She has also begun studies in baroque traverso, having taken lessons from Jed Wentz Alison Melville.