Eric Hanbury w/ Anita Gaide (Organ Duo)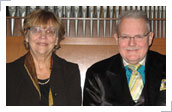 Eric Hanbury
Born in Windsor, Ontario, Eric received his early education in England. When the whole family returned to Canada in 1964 he started organ lessons with Dr. Charles Peaker at St. Paul's Bloor Street. He attended the University of Toronto and continued organ studies with Douglas Bodle and John Tuttle. Eric had a thirty-three year career as a Toronto high school teacher of Music (Band, Keyboard and Vocal), and English. During his teaching career he also worked in various churches, and in 1985 reinstituted The Toronto Choral Society, and was their conductor for seven years. Eric has performed recitals at Convocation Hall, U of T, St. Mary Magdalene, St. Peter's Erindale, and St. Paul's Bloor Street.

Anita Gaide (Rundans)
Anita Gaide has had a multifaceted career as an organist, teacher, counsellor and Lutheran minister. Her organ teachers include John Dewdney, David Ouchterlony, Charles Peaker and Jean Langlais. She holds six university degrees, among them an MA in Latin, MDiv, THD, Doctor of Theology, Emmanuel College, Victoria University. Her music diplomas include the ARCT in organ performance ( Gold medal), ARCCO, Diploma de Virtuosite, Schola Cantorum. Paris ( Canada Council grant). She has held organist's positions at St. John's Norway Anglican, Woodgreen United, the American Protestant Church of the Hague, Eastminster United and St. John's Lutheran Latvian Church, Toronto, where she served as organist for 34 years and associate minister of pastoral work for 21 years. As a concert organist, Anita has performed in Latvia, Europe, Australia and the US. Anita was a high school teacher of Latin and English, ESL counsellor and assessor for the TDSB for 33 years. She is presently the minister of the East Toronto Lutheran Latvian Congregation, at St. Barnabas Anglican Church in Toronto. Her husband, Ivars has been a Latvian Lutheran minister for over 54 years; her son Michael is an organist, while her other son Patrick (Elise) is a government lawyer. Both Ivars and Anita are thankful for their large family, which includes three granddaughters.