Gordon Mansell with Emily Canning (Soprano)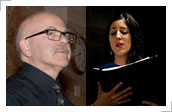 Gordon Mansell is Music Director, composer and titular organist at Our Lady of Sorrows Catholic Church in Toronto, Canada. In 2012, he also formed the touring and concert choir, MOSAIC Canadian Vocal Ensemble, based at Our Lady of Sorrows. Mr. Mansell is also Ontario, Canada, dealer for the world's largest organ builder, Allen Organ Company. Additionally, Mr. Mansell is Executive Producer and Artistic Director of ORGANIX CONCERTS, an on-going year over year music series showcasing many of the finest Canadian and international organists. Gordon is a featured organist and interviewed in the 2015 documentary "Beating Heart" produced by Scott Deathe and also featured organists David Briggs, Patricia Wright and Thomas Fitches.
Gordon holds a Bachelor degree in Science from the Rochester Institute of Technology (1979), a Diploma in Information Technology from the Faculty of Architecture, University of Toronto (2001), Bachelor of Music (2006) and Masters in Music (2008) degrees in organ performance, both from the University of Toronto, Faculty of Music.
Mr. Mansell has performed solo organ concerts in Toronto and in Europe, including five 2012 concerts in Poland at Wadowice, Rabka, the XXII edition of the International Krakow Organ Festival, Zacopane and the XI edition of the L'arte Organica festival in Nowy Sacz. In 2013, Gordon toured Italy with his choir performing public concerts at Holy Trinity Basilica in Florence, St. Mary Major and St. Ignatius Basilica's in Rome. The choir performed three times at the Vatican, twice as principal choir at St. Peter's Basilica and one of the final public Masses of Pope Benedict XVI at his Candlemas celebration. In 2015, Gordon returned to Poland for his second organ performance tour performing three concerts, at the 58th international organ music festival in the Cathedral of Oliwa, the 10th international organ music festival at Jastrzębia Góra and the XVIIIth. Pasymskie organ festival in Pasym. In 2016, Gordon was honoured to perform in his third concert tour to Poland with solo performances at the Slupsk Organ Festival and also at the prestigious 50th anniversary organ festivals at the Cathedral's of Koszalin and Szczecin. In summer of 2017, Gordon will once again perform in Italy with an engagement at the finalé concert of the 10th international organ festival at the Cathedral of SanGiorgio, Porto SanGiorgio.
For more information, www.glionnamansell.com
Emily began choral singing at the age of 9 with the Mississauga Children's Choir. Since then she has joined a number of choral groups, touring in New York City, Chicago, Vancouver, England, and most recently, Italy as both soloist and ensemble member with the MOSAIC Canadian Vocal Ensemble under the direction of founder and artistic director, Gordon Mansell. Emily has served as a cantor for several years at Our Lady of Sorrows Catholic Church and is currently a cantor at Nativity of Our Lord Roman Catholic Church in west Toronto. She is a full time student studying Nutrition at Ryerson University.