Wayne Carroll with Samuel Bisson (Cello)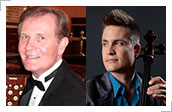 Wayne Carroll was born in London Ontario. Since accepting his first position as organist, at age fifteen, he has maintained a high profile musical career in Southern Ontario for over forty five years.
He is currently the Organist and Director of Music at Knox Presbyterian Church, St. Thomas, Ontario, a position he has held for thirty-five years. At Knox he directs and challenges the fifty voice choir, oversees the children's choir and bell choir as well as organizing and performing in chamber music concerts, often combined with visual art shows.
Wayne was the recipient of the award of merit, in his teacher training year at Elborn College, London Ontario. After receiving this award, music education became a huge part of Dr. Carroll's life. From 1976-1986, as Director of Music at Alma College, he restructured the music department, doubling the school's enrollment in music, while raising the quality of instruction to each national standards.
Since his retirement from a thirty-one year career in education, Dr. Carroll has become more active as a solo recitalist and chamber musician, performing works for pipe organ and orchestral instruments. In 2016 Dr. Carroll received the Cultural Development award, from the Mayor of the City of St. Thomas. This award was presented in recognition of musical achievements not only for his forty years, as Director of Music at Knox Presbyterian Church in St. Thomas, but also his contribution to the arts throughout the city and the surrounding communities. www.knoxstthomas.ca
Originally from Ottawa, cellist Samuel Bisson is quickly distinguishing himself in Canada as a versatile soloist, chamber musician and orchestral player. Currently based in Toronto, he performs frequently in the GTA and has performed and toured across Canada, the US, Austria and China.
Samuel currently holds the position of principal cellist with the Scarborough Philharmonic Orchestra and has appeared as principal and section cellist with the Toronto Concert Orchestra, Ottawa Symphony Orchestra, Brantford Symphony Orchestra and Niagara Symphony Orchestra.
Beyond the boundaries of classical performance, Samuel is an active studio session musician and performer/arranger in a variety of genres. He has worked and collaborated with artists such as Drake, Sarah Brightman and members of Barenaked Ladies and Our Lady Peace.
Samuel is also a composer and wrote the score to the award-winning short film Nuit Blanche, as well as the soundtrack to the Mandarin language film Lovesick, released theatrically in China.