Welcome to Organix 22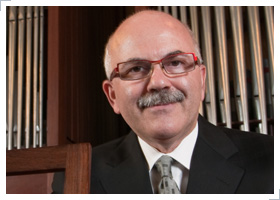 ORGANIX CONCERTS is Toronto's award-winning, internationally recognized year over year organ festival series featuring the thrilling sounds of the magnificent pipe organ, "The King of Instruments." Looking ahead, I predict that the presentation of live organ music will be greater than ever due to pent-up demand for new and faithful enthusiasts to hear this wonderful instrument performed by our greatest musicians.
The 2022 edition of ORGANIX CONCERTS has been a truly thrilling experience showcasing a wide range of repertoire and Canadian and International artists. Lunch time performances that are between 45 minutes and one hour continue to be at either the Anglican Church of All Saints Kingsway or Our Lady of Sorrows Catholic Church. The format for these concerts has proved to be a great way for seasoned and novice organ enthusiasts to experience the very best of musician virtuosity, engaging compositions and dynamic expression. Concerts continue to be a great opportunity to learn about the amazing diversity of music composed for the instrument. I ask each organist to "think outside of the box" to give us repertoire rarely heard in Toronto. This leads to creative programming and a winning formula for excellence.
I look forward to welcoming you to our next concert. You will hear and experience our lunch time concerts through to the end of December with a break in August.
See you soon!
Musically yours,
Gordon D. Mansell
Executive Producer & Artistic Director
ORGANIX CONCERTS
Glionna Mansell Corporation

Peter Bayer
Our Lady of Sorrows Catholic - Toronto
December 7th 2022, 12:30 – 1:30 pm

Mark Himmelman
The Anglican Church of All Saints Kingsway
December 14th 2022, 12:30 – 1:30 pm

Christopher Dawes
Our Lady of Sorrows Catholic - Toronto
December 21st 2022, 12:30 – 1:30 pm