Welcome to Organix 23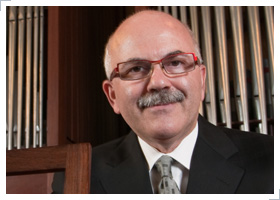 Greetings organ music enthusiasts! The programming for 2023 delivers excellence with every event, whether a lunch time concert on the magnificent tracker organ at Our Lady of Sorrows or at the Gala concerts presented on the tonally rich Casavant organs of Our Lady of Sorrows, Timothy Eaton Memorial Church, the Basilica of Our Lady Immaculate in Guelph, or North Toronto's Lawrence Park Community Church. At any given concert you will hear the best of Canadian or International artists. Each will perform well known repertoire along with rarely heard works from the masters of the Baroque through to the stunning talents of current composers. It is indeed an exciting time to be a music aficionado and an exciting time to experience a live ORGANIX concert for the first time or perhaps as a loyal returning friend.
In the attempt to become semi-retired, (nice if I can actually achieve this strategy!) 2023 is the final year that I will be presenting regularly scheduled ORGANIX organ concerts. Bill O'Meara and I started the festival 18 years ago and while he retired from his involvement many years ago, it is fitting to have Bill return to perform the final concert in December. Along with Bill's return, other alumni will also return, including: Eugenio Fagiani, Mario Ciferri, Renée Anne Louprette, Jonathan Oldengarm, Imre Olah, Alexander Straus-Fausto, Christopher Dawes, Ian Grundy and Andre Rakus with trumpeter Katie Clark. New to ORGANIX this year is Richard Heinzle, Giulia Biagetti, the Blackwood Duo featuring Peter Anthony Togni with bass clarinetist Jeff Reilly, Eric Osborne and Peter DuBois. ORGANIX CONCERTS is also sponsoring the return of alumnus Chelsea Chen in her performance during the first week of July at the RCCO National Convention which is co-presented with the Organ Historical Society and the American Institute of Organ Builders. All-in-all, you have a wonderful opportunity to hear and experience nineteen concerts, eleven are lunch time free-will concerts and eight are General Admission gala concerts. As the final year for ORGANIX, the festival will present quite a spectacular array of music closing out nearly 300 concerts and events, now part of the ORGANIX legacy. If you go to the "Selected ORGANIX Performances" tab on this website, you will hear recordings of some of the concerts that have been performed over the years.
Finally, in presenting organ concerts I have had the privilege of meeting many wonderful ORGANIX enthusiasts and happily, many more extremely talented local and world musicians and radio hosts who have generously interviewed my international guests. I too have had the wonderful experience of traveling and performing in Europe as a result of my relationships with musicians and consulates. It has been an honour and while I enjoy all that 2023 has to offer, it is also bitter-sweet to say good bye. I thank all of you for your part in making ORGANIX an experience of a lifetime. As alumnus Diane Bish had stated…. "it is one of the best and most creative sponsors of organ series in North America. With its dynamic director, Gordon Mansell, Toronto devotees of Classical organ music are able to hear many of the outstanding organ virtuosi in the world today." This is high praise from one of the world's most famous and well loved organists.
Thank you to all! See you soon!
Musically yours,
Gordon D. Mansell
Executive Producer & Artistic Director
ORGANIX CONCERTS
Glionna Mansell Corporation

Peter DuBois
Our Lady of Sorrows Catholic - Toronto
October 18th 2023, 12:30 – 1:30 pm

Andre Rakus/Katie Clark
Our Lady of Sorrows Catholic - Toronto
November 15th 2023, 12:30 – 1:30 pm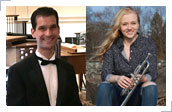 William O'Meara
Our Lady of Sorrows Catholic - Toronto
December 13th 2023, 12:30 – 1:30 pm