Welcome to the final concert of ORGANIX CONCERTS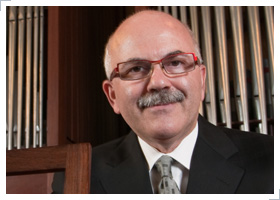 Greetings organ music enthusiasts! The programming for 2023 has been exciting with many truly remarkable musical moments. With just one last concert to experience, ORGANIX CONCERTS comes to an end and will enjoy a small reception after William O'Meara's December 13, 12:30 – 1:30 performance.
It has been a true privilege to present to you some of the finest musicians from Europe, United States and Canada. I have particularly enjoyed showcasing the talents of emerging organists and seeing them blossom into respected professional musicians. It has also been an honour to meet the best of the best and become friends with them in the process. Mostly, it has been a thrill to meet so many wonderful people who just loved coming to every concert, whether they were a lunch time event or one of the Special Presentation Series gala affairs. 18 years have passed and while it was an extreme financial challenge to keep it going for such a long time, it has also had many rewards.
If you wish to relive some of the moments, just go to the Selected Performance tab here on this page and you will find some of the over 300 performances produced over the years.
Thank you and indeed, I will miss you all.
Musically yours,
Gordon D. Mansell
Executive Producer & Artistic Director
ORGANIX CONCERTS
Glionna Mansell Corporation

William O'Meara
Our Lady of Sorrows Catholic - Toronto
December 13th 2023, 12:30 – 1:30 pm