Welcome to Organix 17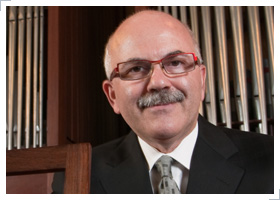 ORGANIX CONCERTS is Toronto's on-going organ festival, a series of concerts that features the thrilling sounds of the magnificent pipe organ, "The King of Instruments." Now in its twelfth season and approaching 170 concerts and events ORGANIX continues its collaboration with All Saints Kingsway in producing the Kingsway Organ Series. It is a free bi-weekly Wednesday 45 minute concert starting at 12:30 pm. This season presents several musical collaborations that will be very entertaining and musically enriching, including organ with... timpani, trumpet, cello and vocal.
On September 22, 7:30 pm, ORGANIX 17 in collaboration with Timothy Eaton Memorial Church, the Consulate General of the Republic of Italy through the Italian Cultural Institute and Royal Canadian College of Organists will present Italian organist and musical sensation, Mario Ciferri. Maestro Ciferri is the Titular organist of the Cathedral of Porto SanGiorgio in Italy. Mr. Ciferri's gala performance will be on the newly restored and expanded five-manual Casavant organ at Toronto's Timothy Eaton Memorial Church. This will be the grandest of evenings featuring the finest of Italian organ repertoire on one of Canada's finest instruments. On the morning of Saturday September 23, also at Timothy Eaton Memorial Church from 10:00 am – noon, Maestro Ciferri will conduct an Italian repertoire Masterclass for organists and enthusiasts. All are welcome to attend this event, one that will be a very interesting and dynamic experience.
As mentioned last year, I hope to reschedule Renée Anne Louprette's performance at Our Lady of Sorrows and plan to do this in the second half of ORGANIX 17, if possible. Please check often for an updated announcement, either here on the website or on the facebook page. Please "like" the facebook page for more immediate information.
Thank you for your continuing support and interest in live organ music. I look forward to personally welcoming you at the next ORGANIX concert.
Musically yours,
Gordon D. Mansell
Executive Producer & Artistic Director