Welcome to Organix 18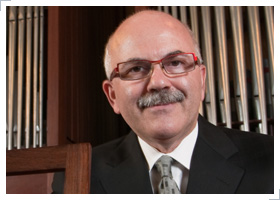 ORGANIX CONCERTS is Toronto's on-going organ festival series offering concerts that feature the thrilling sounds of the magnificent pipe organ, "The King of Instruments." Now in its thirteenth year, the festival series has presented well over 150 concerts and events. In 2018, ORGANIX will present 30 concerts and will continue its bi-weekly noon concerts in collaboration with the Anglican church of All Saints Kingsway. Eventually, noon day concerts will include Our Lady of Sorrows and once this happens, there will be noonday concerts every Wednesday in the Kingsway. The Kingsway free concerts have gained a stellar reputation for attracting some of the finest Canadian and International organists. Happily, ORGANIX artists perform to the most enthusiastic audiences of any Toronto concert series!
This year our American performers include the very popular and talented Rich Spotts and internationally acclaimed concert artist Brenda Leach. Three special Gala Concert performances are scheduled and will include a return engagement by Eugenio Maria Fagiani (Italy). First time ORGANIX performers will include; Jeremy Woodside (New Zealand) and Loreto Aramendi (Spain) and with some scheduling luck, ORGANIX 18 will also present Canadian International Organ Competition first place winner, Alcée Chriss III (USA). ORGANIX is also happy to promote in collaboration with Metropolitan United Church a concert performed by Ryan Jackson (Canada-USA).
Please check often for announcements, either here or on the facebook page. Please "like" ORGANIX CONCERTS on facebook so that you can get the most immediate information on upcoming events. Also, please purchase your gala tickets in advance. If you are a group of 8 or more, you can share in discount pricing. Ordering in advance always helps me in planning the food for our traditional Gala receptions. As always, those 18 years of age and younger get into every ORGANIX CONCERT free of charge.
Thank you for your continuing support and interest in live organ music. I look forward to personally welcoming you at the next ORGANIX concert.
Musically yours,
Gordon D. Mansell
Executive Producer & Artistic Director