WELCOME TO ORGANIX 20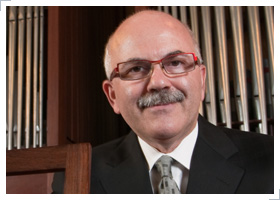 ORGANIX CONCERTS is Toronto's on-going organ festival series offering concerts that feature the thrilling sounds of the magnificent pipe organ, "The King of Instruments." Now in its fifteenth year, the festival series has presented well over 210 concerts and events.
This year the world is suffering from the Coronavirus (COVID 19) pandemic. As a result, our concerts have been cancelled until further notice. Once we get the go-ahead to resume from the government and the churches, we will pick up with the next scheduled performer.
Our SPECIAL PRESENTATION SERIES starting with Xaver Varnus is already rescheduled to take place October 18, 3:00 at All Saints Kingsway. Due to scheduling challenges, this concert in Toronto will be at the same time as David Troiano and Michael Barth performing at St. Patrick's Catholic Church in Mississauga. ORGANIX CONCERTS enthusiasts have two concerts to choose that day. However, David Troiano and Michael Barth will also perform two days ahead of Xaver's concert on Friday October 16. This means that it may be possible for you to attend David and Michael on the Friday and Xaver on Sunday, if tickets are still available. I will work to reschedule Richard Spotts and the Basilica of Our Lady presentation of L'Orgue Mystique. Additionally, I will see if Giulia Biagetti's two concerts can be rescheduled for later in 2020. I expect the concerts that were scheduled in the fall of 2020 will continue as planned and will include:
The Special Presentation Concert Series David Bendix Nielsen from Copenhagen, Denmark (Friday, September 25) will perform for us before competing in Montreal's Canadian International Organ Competition. David Troiano (Detroit, Michigan) with trumpet virtuoso Michael Barth will perform for us at Christ Church Deer Park (Friday October 16) and again at St. Patrick Catholic Church in Mississauga (Sunday, October 18). Xaver Varnus will also perform at All Saints Kingsway on Sunday, October 18, 3:00.
There is much to continue to look forward to throughout the second half of 2020. Please check often for announcements, either here or on the facebook page. Please "like" ORGANIX CONCERTS on facebook so that you can get the most immediate information on upcoming events.
ORGANIX CONCERTS is not supported by any institution or government source. Your donations will go a great distance in ensuring the continuation of live organ music in Toronto. Thank you for your continuing support and interest in live organ music. You can also help the cause by making a request of organ music on The New Classical FM, 96.3 in Toronto, in Collingwood 102.3 or in Cobourg, 103.1. Find a piece of repertoire to request on Bill Anderson's "Juke Box" from this ORGANIX CONCERTS website by clicking on "Past Programs" for any number of interesting pieces you may find from any of the ORGANIX concerts that have been performed since 2006. Currently, the "Juke Box" is fairly inadequate when it comes to organ music. Please give Bill Anderson several pieces to choose from and with any luck, one of them will be in his "Juke Box" and it may get air time. This single act will do much to give the station an indication that there is a market out there for organ music. Better if the piece you select actually gets played. It will promote the organ as a viable musical instrument for today's audiences. It may even encourage greater media support of organ concerts.
Phone: 416-963-5996
Twitter: @billsjukebox
Email: B.Anderson@mzmedia.com
I look forward to personally welcoming you at the next ORGANIX concert.
Musically yours,
Gordon D. Mansell
Executive Producer & Artistic Director