Welcome to Organix 21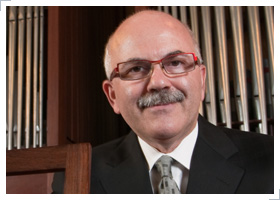 ORGANIX CONCERTS has been Toronto's award-winning, internationally recognized year-round organ festival series featuring the thrilling sounds of the magnificent pipe organ, "The King of Instruments." Unfortunately, in 2020, the Corona Virus (COVID 19) put an abrupt end to our concerts. The restrictions imposed as a result of this pandemic will carry through into 2021 and until our health officials deem it safe to return to live and/or live-streamed performances. I look forward to seeing you in person and welcoming you to enjoy performances from the finest of Canadian and International artists. Over the course of 15 years and over 210 concerts, ORGANIX CONCERTS has been host to international artists from our own country of Canada, from Poland, Italy, Germany, France, United Kingdom, Hungary, United States and Austria. I hope that in time, this exciting activity may resume to even greater numbers of music fans.
I am grateful to you as the faithful audience for your in-person support by attending concerts. I also encourage you to consider donating to ORGANIX CONCERTS so that I may be in the position to once again present the greatest world-class talent to perform for us. Until we meet again, please keep making those requests of organ music with your local classical radio or internet broadcasters. Keep supporting organ music in any way you can.
Keep well!
Musically yours,
Gordon D. Mansell
Executive Producer & Artistic Director
ORGANIX CONCERTS
Glionna Mansell Corporation