Welcome to Organix 15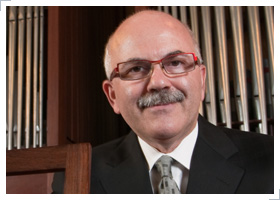 This has been Toronto's tenth annual organ festival, a series of concerts that featured the thrilling sounds of the magnificent pipe organ, "The King of Instruments." Additionally, and for the first time, ORGANIX also presented concerts on Allen digital instruments. ORGANIX is synonymous with the finest of entertainment from emerging artists to well-experienced international performers.
ORGANIX 15 offered solo and collaborative performances to enthusiastic audiences. The final performance of ORGANIX 15 will showcase organist William O'Meara with William Findlay on Cello on October 23 at Lawrence Park Community Church. Renée Anne Louprette's performance has been postponed to ORGANIX 16.
ORGANIX CONCERTS has been a festival unlike any other and as I have a bit of a sabbatical from producing live organ concerts, I am now producing and hosting a weekly broadcast presentation of the world's finest organists and repertoire. I invite you to tune into this unique Toronto-based program on a Latino radio station. I am the CRTC required English content and I don't mind this. It gives organ music a place in the broadcast realm. However, I need advertisers to sustain the program. Please consider this very focused classical music market for your music instrument sales, music oriented activities, concerts or events.
Happy listening!
Musically yours,
Gordon D. Mansell
Executive Producer & Artistic Director