Eric Hanbury & Ian Sadler Organ Duo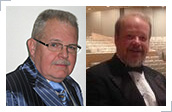 Eric Hanbury
Born in Windsor, Ontario, Eric received his early education in England. When the whole family returned to Canada in 1964 he started organ lessons with Dr. Charles Peaker at St. Paul's Bloor Street. He attended the University of Toronto and continued organ studies with Douglas Bodle and John Tuttle. Eric had a thirty-three-year career as a Toronto high school teacher of Music (Band, Keyboard, and Vocal), and English. During his teaching career, he also worked in various churches, and in 1985 reinstituted The Toronto Choral Society, and was their conductor for seven years. Eric has performed recitals at Convocation Hall, U of T, St. Mary Magdalene, St. Peter's Erindale, and St. Paul's Bloor Street.
Ian Sadler
Ian began his musical training as a boy chorister for five years at St. Paul's Cathedral, London, UK. He was awarded a Music Scholarship to The King's School, Canterbury and following high school, was awarded the Organ Scholarship at Bristol University. During postgraduate study at London University (1978-80), Ian was Organ Scholar at St. Paul's Cathedral. Ian holds degrees in musicology and education, with organ diplomas from Trinity College of Music and The Royal College of Organists. Before moving to Canada, his final engagement in the UK was to play the organ in the movie, Chariots of Fire.
Ian moved to Toronto in 1980 following his appointments as Director of Music at Grace Church-on-the-Hill and Choral Director at Upper Canada College. Ian has since accompanied and shared the concert platform with many Canadian artists including Maureen Forrester, Daniel Taylor, John McDermott, Michael Burgess, Measha Brueggergosman, Gary Relyea, Michael Schade, Daniel Lichti, Suzie LeBlanc and Jackie Richardson. Since 1980, he has collaborated with several Canadian orchestras and as a solo organist has worked with many International conductors including Michael Reason, David Hoyt, Chosei Komatsu, Nikki Goldschmidt, Robert Cooper, Simon Streatfeild, Brian Jackson, Peter Oundjian, John Rutter, Sir Andrew Davis and Sir David Willcocks. Ian has also commissioned and premièred many new choral and organ works from Canadian composers including Ruth Watson Henderson, Derek Holman, Robert Evans, Jeff Enns, Albert Greer, Denis Bédard and for its premiere in Canterbury Cathedral by his Cathedral Singers this past January, a new Christmas Carol by Kathryn Rose.As an organist, Ian has represented Canada internationally on many occasions. In 1986, the year that he became a Canadian citizen, Ian won 1st prize at the Syracuse International Organ Playing Competition in the USA. As a Canadian recitalist, tours have since taken him to Denmark, Sweden, Germany, France (Notre Dame Cathedral, Paris), Austria (Vienna's St. Stephen's Cathedral), Australia (Sydney, Newcastle, Adelaide and Melbourne), the USA (New York, Boston, San Francisco and Hawaii) and back to the UK ( Coventry Cathedral, Westminster Abbey, King's College, Cambridge & St. Paul's Cathedral). In 1999 Ian was the first Canadian juror at the International Liszt Organ Competition held at the Liszt Academy in Budapest, Hungary. In 2000 he was presented with a Juno award for a gospel music CD performed by his Burlington Chamber Choir, Pro Musica and Canadian singer Deborah Klassen.
For his dedication to promoting the organ and Canadian music, The Royal Canadian College of Organists honoured Ian in 2007 with their highest award, 'Fellowship of The Royal Canadian College of Organists'.
Ian is Organist of St. James' Cathedral in Toronto. Alongside his duties at St. James', Ian is Conductor of The 100 voice Stratford Concert Choir, a position he has held since 1989. He is also Artistic Director and Conductor of The Cathedral Singers of Ontario, a choir which he founded in 1999. Ian will conduct this latter choir for a week's residency at St. Patrick's Cathedral, Dublin this coming July. He has been invited to act as organist-in-residence for a week at Ely Cathedral in August. In September he will present several organ concerts in Finland followed in December/January by a tour with his Cathedral Singers in Jamaica.