Andre Rakus with Trumpeter: Katie Clark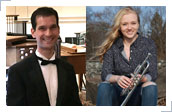 Andre Rakus began his musical studies with the violin at the age of five. At eight years of age, he attended St. Michael's Choir School in Toronto, Canada adding voice and piano to his studies. During high school at St. Michael's College School in Toronto, he studied trumpet. While attending St. Paschal Baylon Roman Catholic Church in Thornhill, Ontario he met the late British concert organist, Stanley Arthur King, under whom he studied organ from the age of twelve. Soon after, he became Assistant Organist at St. Paschal's. At seventeen, he began directing a variety of choral groups for both worship and concerts. In addition, he is adding flute to his musical studies. He holds the Associate and Licentiate Diplomas in organ, both With Distinction, from Trinity College, London, U.K. He also holds a Bachelor of Arts, a Bachelor of Education, and a Registered Nurse Diploma. Prior to accepting a full time Music Director/Organist position in the USA, Andre was studying towards a Master of Sacred Music at Emmanuel College at the University of Toronto, where he was awarded the Billes Theological Support Entrance Scholarship. He plans to continue his studies in the future.
A Fellow of three learned societies for musicians, Andre was awarded the Barwell Piano Student Scholarship from the Royal Canadian College of Organists. In addition, Mr. Rakus was awarded the 2008 Lillian Forsyth National Organ Scholarship from Knox Presbyterian Church, Ottawa. He has also studied under the late William F. Turnbull, and William C. Maddox. He is the Full Time Director of Music and Liturgy at the Roman Catholic Diocese of Charleston, South Carolina, currently serving at Precious Blood of Christ Catholic Church in Pawley's Island, South Carolina. Andre feels honored to return to perform at ORGANIX. He has also performed at Washington National Cathedral (Washington DC), St. Paul's Episcopal Cathedral (Buffalo, NY), Metropolitan United Church – the largest organ in Canada (Toronto, ON), and at Roy Thomson Hall for the Big Sing (Toronto, ON) to name a few of many appearances.
In February 2020, Andre was a Guest Soloist on piano, performing George Gershwin's Rhapsody in Blue with the Lowcountry Wind Symphony in Beaufort, South Carolina. With this same Symphony, Andre along with his wife Bobbi and their son William performed in the percussion section. Andre continues to perform regularly in both Canada and the USA. In addition, he gives dedicatory and anniversary recitals on new and restored instruments and performs with other soloists. He has a fan page on Facebook which lists his upcoming concerts.
---
Since completing her Bachelor of Music with Honours in Music Education degree (2014) and Masters of Trumpet Performance and Literature degree (2016) at the University of Western Ontario, Katie Clark has been on a journey exploring trumpet performance, education, and artistry. Katie is currently a student at Queen's University in the Bachelor of Education degree in the Artist in Community Education program. After the completion of her masters, Katie attended the University of British Columbia where she began a Doctorate of Musical Arts degree. Making the bold life decision to leave her doctoral studies, Katie Clark then travelled to Europe to curate her own education for a year of trumpet performance studies. She became a contract student at the Koninklijk Conservatorium den Haag where she worked alongside the Masters aus LICHT program preparing Stockhasuen's, LICHT for the Opera Forward Festival in the spring of 2018 and was later invited to perform in the Holland Festival in 2019. After a year abroad, Katie attended Bard College Conservatory of Music's Advanced Performance Study program in Annandale-on-Hudson, NY. Her teachers and mentors include Marco Blaauw, Edward Carroll, Carl Albach, Larry Knopp, Aaron Hodgson, and Peter Audet.

Katie has attended numerous festivals and competitions including the 3rd International Competition of "Theo Charlier" in Belgium (2019), 29e Concorso Internazionale "Città Di Porcia" (2018), Amici della Musica di Firenze Masterclass of Stephen Burns (Florence, Italy, 2017), and the ChosenVale Centre for Advanced Musical Studies (Enfield, NH, 2014-2019).

Aside from her trumpet performance career, Katie is a strong advocate for education in the arts. She has held graduate teaching assistantships at both UWO and UBC, was the Brass Specialist at the Montessori Academy of London, volunteered with the Royal Navy Sea Cadets marching band, was an occasional teacher for the New Horizons Band program, and has mentored students privately. In addition to trumpet performance and education, Katie is a portrait photographer and runs her own business, Captured by Katie. No matter the medium, Katie enjoys sharing her gifts through mentoring and educating those around her.