David Troiano with Trumpeter: Michael Barth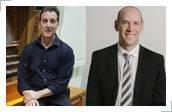 David Troiano
The Organ recitals of David Troiano have garnered notice for their clean performances, musicality, and interesting repertoire. He has appeared throughout the United States; in Canada, Italy, Portugal, Sweden, Poland, Lithuania, Argentina (2020); has appeared in four tours within Finland with Baroque Violinist TapaniYriola; and in many of the great sacred spaces of Mexico including two concerts at LA BASILICA in Mexico City.
With particular focus and interest in the music of the Spanish Baroque and the Spanish-speaking world, he has presented lecture/recitals at several AGO Regional Meetings; at Symposiums on Spanish and Latin American Music (Almeria Spain, 2010, 2016; Tucson 2009, 2011, 2013); and has provided recordings for FIMTE (Spain) which honored the 500th Anniversary of Antonio Cabezon. Always interested in new sound for the organ, he has commissioned and premiered several new works: TAU and SIC MUNDUS CREATUS EST by Mexican composer and physician Armando Torres; COMMISSIONERING by Armando Bayolo; HYMN SUITE by Gilbert Martin; and MISSION BELLS by Miguel Del Aguila of Uruguay/California. He received the Doctorate of Musical Arts Degree from the University of Michigan under the legendary Marilyn Mason along with Harpsichord studies with the brilliant performer/teacher Edward Parmentier. Dr. Troiano currently serves as director of Liturgical Music at St. Clare of Montefalco Parish in Grosse Pointe Park, Michigan; serves as Instructor of Liturgical Chant at SS. Cyril and Methodius Seminary; and is a frequent reviewer of new Organ Literature for the DIAPASON Magazine.
David Troiano has been praised for the beauty of his voice, attention to musical detail, and strong stage characterizations. His Lyric Tenor has been heard in a substantial amount of stage roles in Opera, Operetta (including many Zarzuelas), along with orchestral concerts. His dedication to American Art Song has been heard in over eighty-five recitals to great acclaim throughout the United States and abroad. With the COMIC OPERA GUILD of Ann Arbor, he has recorded nearly FIFTY premiere CDs of little-known stage works by Victor Herbert, Jerome Kern, J.P. Sousa, and others. Other highlights include the World Premiere Recording of the Christmas Pastoral by Paul Paray in which he portrayed the role of Narrator. In 2006, he participated in Barcelona at the Festival of Spanish and Latin American Art Song; in 2010, he was the tenor soloist with the St. John's Boy choir of Warsaw on their American Tour which included a recital at the Marcella Sembrich Museum in Bolton Landing, NY. Mr. Troiano earned a Master of Arts Degree in Voice Performance from Wayne State University where he currently teaches as an Adjunct Professor of Voice.
Choral conducting responsibilities have included the direction of several Musicals at the BonstelleTheater (WSU), and for several community and semi-professional theaters in Michigan. Since 1997, he has been the Choral Director for the International Symphony Orchestra Association whose repertoire is primarily from the major Oratorios along with other concert works. From 2007 to 2014, he was the musical director for the FILARETS Chorus, a Polish-language chorus in the Detroit area for over 85 years. Under his leadership, the chorus won First Place in both the Mixed and Men's Divisions at the National Convention held in May 2014. He is also a past National Assistant National Conductor for the PSAA. Since 2010, Mr. Troiano has been seen (alternating with performing) on the podium with COG in presenting several rarelyheard operettas with recordings for the Guild.
Michael Barth
Trumpeter Michael Barth enjoys a diverse career as a performer, educator, and scholar. Originally from Saskatoon, Saskatchewan, Michael moved to Toronto in 2004 to pursue graduate studies in trumpet performance at the University of Toronto, receiving his Master's degree in 2006 and Doctor of Musical Arts degree in 2011. A versatile and engaging performer, Michael frequently performs on a freelance basis on modern and baroque instruments with several organizations in the Toronto area and beyond, such as the Talisker Players Choral Orchestra, Niagara Symphony Orchestra, Toronto Sinfonietta, Nota Bene Baroque Orchestra, Ontario Philharmonic Orchestra, Durham Philharmonic Orchestra, Mosaic Chorale, and Bach Elgar Choir. Outside the classical world he performs and records with several rock bands, and has toured North America, Europe and Asia with the instrumental rock group Do Make Say Think, Ohad Benchetrit's Years, and Charles Spearin's Juno-award winning The Happiness Project.