Welcome to Organix 15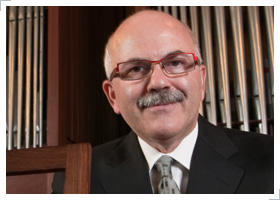 This is Toronto's tenth annual organ festival, a series of concerts featuring the thrilling sounds of the magnificent pipe organ, "The King of Instruments." Additionally, and for the first time, ORGANIX is presenting concerts on Allen digital instruments. ORGANIX is synonymous with the finest of entertainment from emerging and well-experienced international artists. This year, the concert enthusiast has two series of Select and very special concerts starting February 13 and ending October 23, 2015. Series "A" will delight you with seven concerts and four more in Series "B" plus four free concerts and an Organ Skills workshop with one of the world's foremost organists, David Briggs. ORGANIX is going beyond Toronto for several concerts this year and presenting concerts in Kingston, Mississauga and Oakville.
ORGANIX offers solo and collaborative performances. The solo concerts this year include Jens Korndoerfer, Aaron Tan, Jennifer Loveless, and Renée Anne Louprette. The duo concerts, include Chris Dawes and Daniel Rubinoff on Saxophone, Zsigmond Szathmáry and Olaf Tzschoppe on Percussion, Roman Perucki and Maria Perucka on Violin, and William O'Meara and William Findlay on Cello. There is also a series of four concerts with a free-will admission, including Gordon Mansell, Simon Walker and for a special treat, Maîtrise des Hauts de France, the French Boys Choir from Paris, France.
Make it a goal of yours to attend multiple concerts and get your tickets early. Tickets for the seven concert "A" Series Pass or "B" Pass, or a Pass for both "A" and "B" series concerts make great gifts! Passes are limited and will only be sold until the first concert of the series. Also, for the first time, ORGANIX is offering specially priced tickets to church members of where an ORGANIX concert is being presented. These special tickets are only available from the church office and only for those who are registered members of that church. Consider it a perk for attending that church and an appreciation on the part of ORGANIX for being allowed to present a concert in that venue.
ORGANIX is a festival unlike any other. I look forward to welcoming you in person at each of the concerts. Enjoy ORGANIX 15 and please tell your friends about it too!
Musically yours,
Gordon D. Mansell
Executive Producer & Artistic Director