Andre Rakus with Katie Clark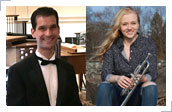 Andre Rakus began his musical studies with the violin at the age of five. At the age of eight, he attended St. Michael's Choir School in Toronto, Canada adding voice and piano to his studies. Attending high school at St. Michael's College School in Toronto, he studied trumpet. While at St. Paschal Baylon Roman Catholic Church in Thornhill, Ontario he met the late British concert organist, Stanley Arthur King, under whom he studied organ from the age of twelve. He is now adding flute to his musical studies. He soon became Assistant Organist at St. Paschal's. At the age of seventeen, he began directing a variety of choral groups for both worship and concerts. He holds both Associate and Licentiate Diplomas in organ (With Distinction), from Trinity College, London, U.K.He has also studied under the late William F. Turnbull, William C. Maddox and studies with Dr. Marilyn Keiser. He also holds a Bachelor of Arts, a Bachelor of Education, and a Registered Nurse Diploma. Prior to accepting a full time Music Director/Organist position in the USA, Andre was studying towards a Master of Sacred Music at Emmanuel College at the University of Toronto. He plans to continue those studies in the future. He has also participated in a choral conducting masterclass with Grammy nominated Professor Vladimir Gorbik who is Professor of Choral Conducting at the Tchaikovsky Moscow State Conservatory. He is the full time Director of Music and Liturgy at the Roman Catholic Diocese of Charleston, South Carolina, currently serving at Precious Blood of Christ Catholic Church in Pawley's Island, South Carolina.

Andre was awarded the Barwell Piano Student Scholarship from the Royal Canadian College of Organists. Andre was also awarded the 2008 Lillian Forsyth National Organ Scholarship from Knox Presbyterian Church, Ottawa. Some of his performance appearances include Metropolitan United Church (Toronto, ON),Roy Thomson Hall for the Big Sing (Toronto, ON) as guest organist, St. Paul's Episcopal Cathedral (Buffalo, NY), Washington National Cathedral (Washington DC), with the Lowcountry Wind Symphony (Beaufort, SC)performing as guest pianist George Gershwin's Rhapsody in Blue, U.S. Army Chorusas accompanistand with the Astralis Ensembleas guest pianist. Andre is a Fellow with the learned society, The Guild of Musicians and Singers (London, U.K.) and is a board member of the Grand Strand Chapter of the American Guild of Organists.

You can find Andre on his YouTube page (Andre Rakus, Organist) as well as on his Facebook fan page. His arrangement of the Star-Spangled Banner on the organ went viral on TikToklast 4th of July.Andre feels honored to return to perform once again at ORGANIX.
---
Katie Clark, an Irish Canadian trumpet performer and educator, enjoys sharing a variety of musical genres with diverse audiences. Katie is an instrumental music teacher with the Hamilton-Wentworth District School Board where she teaches beginner band instruments to junior and intermediate students. In her position, she conducts a ukulele ensemble, a junior choir, as well as a concert band. Away from school, Katie is a solo cornet player in the Weston Silver Band, an award winning and internationally recognized brass band. Highlights of Katie's performance career so far have included performing in the 2019 Holland Festival (Amsterdam, Netherlands), the 2018 Opera Forward Festival (Amsterdam, Netherlands), attending the ChosenVale Centre for Advanced Musical Studies (New Hampshire, USA, 2016-2019), competing in the 2018 International Trumpet Competition "Citta' Di Porcia" (Porcia, Italy), competing in The 3rd Theo Charlier International Trumpet Solo Competition (Namur, Belgium), and joining "Born in the GTA" for a Bruce Springsteen cover show at the Horseshoe Tavern (Toronto, CA). Katie is a graduate of Western University (BMus Hon. Music Ed., 2014, MMus 2016) and Queen's University (BEd Artist in Community Education, 2021). She has also attended the University of British Columbia (DMA year 1, 2016), the Royal Conservatory of The Hague (contract study, 2017), and Bard College Conservatory of Music (Advanced Performance Study, 2018). In addition to her musical career path, Katie is a four-time marathoner.