Mario Ciferri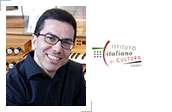 Mario Ciferri was born in Fermo – Italy. His extensive studies led him to receive Diplomas with brilliant results in Piano, Organ, Conducting of Orchestra, Harpsichord (with highest honours) and Sacred Music (cum laude) from the "G. B. Martini" Conservatoire in Bologna, the "St. Cecilia" Conservatoire in Rome and the "G. Rossini" Conservatoire in Pesaro, where he also studied Composition.
Mario enriched his music education by attending numerous specialization courses in Italy and abroad, winning the attention and admiration of internationally famous music teachers including; Christopher Stembridge, Gaston Litaize, Luigi Ferdinando Tagliavini, Michael Radulescu, Roberto Marini, Arturo Sacchetti, Ton Koopman for organ and harpsichord. During this period of time, Mario also earned many concert prizes; Giovanni Acciai, Marco Boschini, Piergiorgio Righele, Stephen Woodbury, Marco Berrini, Giacomo Baroffio for choral music. He is the winner of a scholarship awarded to him by the prestigious "Rossini Foundation" of Pesaro in 1993. Furthermore, he is the winner of National and International Competitions, receiving the second prize (the first one was not assigned) at the XIV National Organ Competition in Noale (Venezia) in 1990 and the second prize at the "Fratelli Bernasconi" First International Organ Competition in Olgiate Olona (Varese) in 2003. Pupil of the conductor Manlio Benzi, subsequently he took the Diploma at the Triennal Course of High Specialization in Conducting with Donato Renzetti at the Music Academy in Pescara.
Maestro Ciferri wins high praise as he performs regularly as organist at renowned International Organ Festivals in Italy and abroad and in significant concert halls and Cathedrals: France (Paris, Bordeaux, Lyon, Montpellier), Germany (Muenchen, Mainz, Fulda, Herford, Saarbrucken, Rheda, Karlsruhe, Pforzheim, Darmstadt, Ottobeuren, Ingolstadt, Wiesbaden, Potsdam), Austria, United Kingdom (St. Paul's Cathedral and Temple Church in London, Lincoln, Rochester, Edinburgh), Czech Republic, Slovakia (Bratislava), Poland (Warsaw, Poznan, Katowice, Koszalin, Wadowice, Legnica), Switzerland (Lausanne, Lugano), Denmark (Copenhagen, Odense), Finland, Spain, Malta, Portugal, Belgium (Brugge), Sweden (Lund, Malmo), Lithuania (Vilnius), Russia (Moscow Cathedral, St. Petersburgh, Ekaterinburg, Perm and Sochi Philarmonias), Siberia, Belarus (Minsk, Vitebsk), Canada (Toronto) and USA (St. Patrick's Cathedral and Central Synagogue in New York). In 2018 he performed as soloist the M. E. Bossi organ concerto op. 100 with an orchestra in Sochi Philarmonia (Russia) and recently he performed the same Bossi organ concerto in the Katowice Philarmonia (Poland).
His large repertoire extends from Ancient Music through to Modern and includes the most important concert pieces by D. Buxtehude, J. S. Bach, F. Mendelssohn, A. G. Ritter, F. Liszt, J. Reubke, M. Reger, S. Karg-Elert, C. Franck, C.-M. Widor, L. Vierne and M. Duruflé. In addition and alongside organ concerts there are numerous inaugurations of restored historical organs in Italy and has on numerous occasions presented the first modern performances of composers from his Marche Region, including new works by A. Cruciani, G. B. Mastini, B. Bittoni, C. A. Cristiani, L. Vecchiotti and many other emerging composers.

He has several times collaborated as organist with ensembles and orchestras including; The Virtuosos of Bucharest, the International Orchestra of Italy, the Chamber Orchestra of Marche, the Philarmonic Orchestra of Marche and Symphonic Orchestra of Abruzzo, taking part in symphonic Festivals and broadcasts for radio and TV. In 2004 Mario recorded for "La Bottega Discantica" in Milano, the first recording of the complete organ works by Luigi Vecchiotti (1804-1863). Also as organist, Maestro Ciferri recorded for "Sheva" a CD featuring "Oratorio de Noël" op. 12 by C. Saint-Saëns with Chamber Orchestra of Marche and also collaborated in the DVD "Terra d'organi" playing on historical organs in Region Marche.
As Choir and Orchestra Conductor he works with several baroque ensembles, Italian orchestras and choirs performing the great compositions of J. S. Bach, G. F. Händel, M. A. Charpentier, W. A. Mozart, A. Vivaldi, B. Galuppi, G. B. Pergolesi, G. Giordani, G. Fauré, C. Saint-Säens, and many more in addition to famous artists. In 2006 A.R.CO.M. (Regional Association of Choirs in Marche) invited Mario to conduct the selected Regional Choir performing Requiem KV 626 by W. A. Mozart and Motets by B. Britten in several concerts, one of them was at "Teatro alle Muse" in Ancona. In 2014 he won the First Prize at "A. Guanti" International Choral Competition in Matera and also the special prize for the best performance of a piece composed by an Italian contemporary author.
In 1998 he won the National Competition for exams and titles and subsequently became a teacher of Organ, Gregorian Chant, Harpsichord, choral training and choral conducting at the "G. B. Pergolesi" Conservatoire of Music in Fermo.

He is the titular organist in St. George's Cathedral in Porto San Giorgio where he is also the Artistic Director of the International Organ Festival.