Giulia Biagetti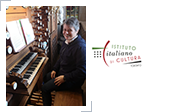 "The eleventh Festival Laurenziano ended with an explosive concert (to say the least) by Tuscan organist, Giulia Biagetti. A tiny lady, like a figurine at the Tamburini console, is endowed with an extraordinary musicality, capable of raising storms of sounds. […] The program chosen by Mrs. Biagetti was one of the most stimulating we have heard in these most recent seasons of the Festival."
Thus wrote a critic after a concert held in Perugia Cathedral by Giulia Biagetti, one of Italy's most important organists. Foreign critics have similarly praised the originality of her programs and the brilliance of her performances.
Giulia Biagetti was born in Istanbul, into a family with a great musical tradition. Giulia's mother, Sylvia von Sauer, was the granddaughter of Emil von Sauer, one of the greatest pianists of the late 19th and early 20th centuries. Giulia's father was from Spoleto, Italy; he was a teacher of Italian literature and philosophy in various Italian cultural institutes outside of Italy. After traveling throughout Europe with his family, he returned to Lucca and settled in Lucca, where Giulia continued her studies. She obtained a degree in piano at the Conservatory "L. Boccherini" in Lucca and degrees in organ performance and organ composition at the Conservatory "G. Frescobaldi" in Ferrara. She studied composition with Marino Pratali and Gaetano Giani Luporini, both composers from Lucca. She participated in masterclasses with L.F. Tagliavini, M. Radulescu, H. Vogel, Michel Chapuis, Klemens Schnorr, Arturo Sacchetti, Giancarlo Parodi, R. Saorgin etc.
In 1981 Biagetti was named Assistant Organist of Lucca Cathedral, and since 1996 she is the Titular Organist. She is also organist of the Cathedral's "Cappella S. Cecilia" a choir with a prestigious choral tradition. (On the Bongiovanni label they have recorded 18 CDs dedicated to music of the Puccini family (all of which worked in that Cathedral) and other composers from Lucca.)
As organ soloist Biagetti has given many concerts in Italy and other European countries. Several times she had the honor of representing Italy on special occasions such as the 900th anniversary of the Croatian Church in Zagreb in 1994 and at a festival entirely dedicated to women organists from all over the world at Passau Cathedral in 1997.
Since 1996 Biagetti is artistic director of the Camaiore Organ Festival, where she has promoted the music of the authors of Baroque era, particurarly J.S. Bach and, in year 2000, a series of conferences and studies about J.S. Bach and his time ("J. S. Bach 2000"). This project continued in year 2010 with a symposium with Christoph Wolff, Felix Friedrich and others. She is also artistic director of the Organ Vespers in Lucca's Cathedral, artistic consultant for the"Sagra Musicale Lucchese" and for the "Cantiere della Musica", and President of the Marco Santucci Association in Camaiore.
Biagetti has taught Organ and Gregorian chant at the Lucca Conservatory and the Lucca Diocesan School of Music, and Organ at the City School of Music in Capannori. She has published various articles pertaining to organs and organbuilding (Informazione Organistica, Bollettino Ceciliano). She has taken part in various concerts as accompanist and continuo player.
Biagetti's programs are often dedicated to particular composers or specific themes. In Italy she often presents music from the tradition of the province of Lucca.
Biagetti has recorded a CD of Romantic organ music at the Santuario in Pompeii (Bongiovanni 1991) and another dedicated to music by contemporaries of Bach (Camaiore Organ Festival Association, 2010).
A partial list of the prestigious venues where Biagetti has performed: Cathedrales of Paris (Notre-Dame), Bordeaux, Carcassonne, Arbois, Sankt Gallen, Bern, Lausanne, Brig, Freiburg im Breisgau, Eichstätt, Herford, Altenberg, Mainz, Magdeburg, Worms, Salzburg, Passau, St. Blasien, Zagreb; and in other famous church and festivals: Madrid, Sevilla, Barcelona, Igualada, San Sebastian, Zumaja, Villach, Innsbruck, Bad Aussee, Munchen , Potsdam, Bochum, Ottobeuren, Altötting, Bitburg, Naumburg (St. Wenzel), Arnstadt (Bachkirche) Altenbruch (St. Nicolai), Lüdingworth, Lüneburg (St. John), Altenburg (Schlosskirche), Hamburg (St. Jacobi), Freiberg (St. Peter ), Bad Homburg (Schlosskirche) etc.
In Italy: Arezzo, Firenze, Lucca, Viareggio, La Spezia, Pisa, Prato, Pistoia, Siena, Manciano (Gr), Livorno, Rapallo, Ventimiglia, Valsesia, Cortona, Bologna, Milano Marittima, Spoleto, Ragusa, Camaiore, Bergamo, Roma, Aosta, Valsassina, Valsugana, Como, Lecco, Pompeii, Monreale, Mistretta, Ragusa, Bari, Teramo, Fano, Ravenna, La Verna, Milano, Trento, Cava de' Tirreni, San Giovanni Rotondo, Tivoli, Vallombrosa, Montenero (LI), Parma, Modena, Vittorio Veneto, Perugia, Città di Castello, Aprilia, etc.
----------
"L'undicesimo Festival Laurenziano si è chiuso con una serata a dir poco dirompente con un'organista toscana, Giulia Biagetti. Una signora minuta, una statuina alla consolle del Tamburini, dotata di una straordinaria musicalità, capace di sollevare tempeste di suoni". E ancora: "Il programma scelto dalla signora Biagetti è stato uno dei più stimolanti che abbiamo ascoltato in queste ultime edizioni del Festival".
Così si è espresso un critico dopo un concerto tenuto nella cattedrale di Perugia da Giulia Biagetti, che è oggi una tra le più importanti interpreti italiane dell'organo. Nello stesso modo si sono espressi più volte altri critici stranieri sottolineando, nelle loro recensioni, l'originalità dei suoi programmi e la brillantezza delle esecuzioni.
Nata ad Istanbul (Turchia) col padre, Baldo Biagetti (originario di Spoleto), insegnante di Lingua italiana, Storia e filosofia presso vari Istituti Italiani di Cultura all'estero e la madre, Sylvia von Sauer, nipote del celebre pianista Emil von Sauer, che fu allievo di N. Rubistein a Mosca e poi di Liszt a Weimar, Giulia Biagetti ha seguito con la famiglia l'attività del padre e si è trasferita in varie città Europee (Istanbul, Barcellona, Belgrado), fino a quando, stabilitasi definitivamente a Lucca, in Italia, ha proseguito i suoi studi diplomandosi in "Pianoforte" presso l'Istituto "Boccherini" (Lucca) ed in "Organo e composizione organistica" presso il Conservatorio "G. Frescobaldi" di Ferrara.
Ha studiato poi musica corale e composizione con Marino Pratali e Gaetano Giani Luporini. Si è quindi perfezionata con famosi maestri italiani e stranieri (Chapuis, Radulescu, Vogel, Schnorr, Tamminga, Westerbrinck, Tagliavini, Sacchetti, Parodi, Innocenti ecc.). Dal 1981 è stata assistente organista presso la Cattedrale di San Martino in Lucca e dal 1996 è divenuta organista titolare della stessa Cattedrale in un ruolo di prestigiosa tradizione che annovera le presenze illustri dei fratelli Guami, degli Schiava padre e figlio, dei membri della famiglia Puccini per ben 124 anni e di tanti altri organisti celebri e famosi al loro tempo. In qualità di docente ha insegnato Organo e Canto gregoriano presso il Conservatorio "L. Boccherini" di Lucca, pianoforte ed organo presso la scuola Diocesana di Musica "R. Baralli" e presso il Seminario Arcivescovile Diocesano. E' stata inoltre titolare della cattedra di Organo alla Civica scuola di Musica di Capannori (LU).
Ha pubblicato diversi articoli dedicati all'organo e all'arte organaria (Informazione organistica, Bollettino Ceciliano ecc.), due fascicoli dedicati ai 30 e poi ai 40 anni della Sagra Musicale Lucchese. Ha collaborato con diversi enti, istituzioni e associazioni nella promozione di eventi culturali e concertistici, tra cui il convegno tenutosi a Camaiore nell'anno 2000 (di cui sono stati pubblicati gli Atti dall'Associazione musicale "Marco Santucci"), il Festival organistico "Città di Camaiore per ben 27 edizioni, la Sagra Musicale Lucchese, il Cantiere della musica. Sono state molteplici le collaborazioni con Enti e associazioni che hanno segnato eventi importanti nella sua attività artistica. Il progetto relativo a Bach, con un convegno risalente all'anno 2000, è continuato poi nel 2010 con un simposio tenutosi a Camaiore, che ha visto la presenza di personalità quali Christoph Wolff, Felix Friedrich ed altri.
Ha inciso un CD (1991/92) sull'organo della Basilica della Madonna di Pompei con musiche d'organo del periodo romantico ed un altro (2010) dedicato a Bach e agli autori del suo tempo. Come solista ha al suo attivo un'attività concertistica di rilievo, con recital tenuti in Italia e nel resto d'Europa, su organi famosi ed in festival e rassegne internazionali di grande prestigio.