Blackwood Duo - Peter-Anthony Togni, Jeff Reilly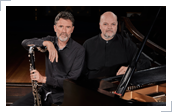 Blackwood started back in 1998 with a trip to the organ loft. Peter and Jeff had just started working together at the CBC music department in Halifax, NS and on one weekday afternoon Peter mentioned he had acquired the keys to one of the best organs in the city. Without hesitation they skived off the rest of the day to go check it out. Jeff brought his bass clarinet along and the sounds they were able to make in that cathedral space of St Mary's Basilica were a revelation. They discovered a deep musical sympatico that has led to over 2 decades of remarkable productivity.
Peter and Jeff went on to tour the world with the trio Sanctuary, record concertos for bass clarinet and choir on the German label ECM, string orchestra concertos on Warner Classics and award winning full length works for solo bass clarinet and vocal quartet on the Montreal based label ATMA Classique.
In spite of having worked on many large-scale projects together, it is in the intimate context of performing their own compositions on piano and bass clarinet that Togni and Reilly celebrate the full range of their many years of collaborative musical experience. In their debut release as a duo, Togni and Reilly explore everything from ancient modality to contemporary modernism. Their sound has the precision of gesture and clarity of focus found in any serious classical ensemble, but also taps into the expressive freedom found in the improvisational gestures of contemporary jazz.