Thomas Fitches - Organ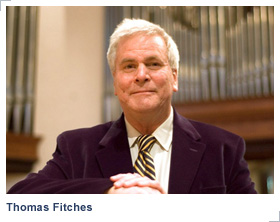 Thomas Fitches received his training in Oshawa, Toronto and Croydon, England, at the Royal School of Church Music. His teachers have been George Rapley, Alan Reesor, and Douglas Bodle. From 1965 to 1973 he was the Assistant Organist at the Anglican Church of St. Simon the Apostle, in Toronto. During this time, he became familiar with the tonal aspect of pipe organ building. He has voiced many instruments in the Toronto area, for Alan T. Jackson of Casavant Freres. Since 1973 he has held the position of Organist and Director of Music at St. Clement's Anglican Church.
Mr. Fitches has performed on CBC radio in the series "Organists in Recital" and, was a guest artist in the "Twilight Organ Series" at Roy Thomson Hall. He has also appeared as organ accompanist with the Elora Festival Singers and performing with them on their Naxos recording The Choral Music of R. Vaughan Williams Mr. Fitches is a past President of the Toronto Centre of the Royal Canadian College of Organists, and he is Organist and Conductor of the Chapel Choir at Massey College.