The Wong Chen Duo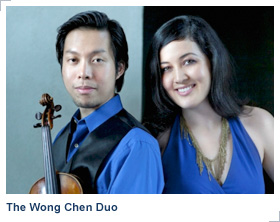 The Wong-Chen Duo, America's premier violin-organ ensemble has been widely acclaimed for their "refreshing" and "creative" performances (The American Organist).

Founded by Juilliard graduates, organist Chelsea Chen and violinist Lewis Wong, the Wong-Chen Duo made its debut at the Chautauqua Music Festival in Mt. Gretna, PA. Since then, they have enjoyed regular performances in North America, Europe, Asia, and Australia. Highlights of recent concerts include engagements at Sydney's Christ Church St. Laurence, Kiev's Catholic Cathedral, New York City's Union Theological Seminary, and a solo appearance with the Jakarta Orchestra.

Dedicated to expanding the violin-organ literature, the Wong-Chen Duo is an avid proponent of new music. In addition to their own compositions for the genre, Ms. Chen and Mr. Wong have commissioned new pieces from composers Paul G. Bonneau, Yui Kitamura, and Andreas Kleinert, and are scheduled to premiere works for violin, organ and strings, with orchestras throughout the United States and Germany.

The Wong-Chen Duo maintains a special commitment to the development of young talent. They have taught masterclasses at the Taiwan Seminary, Baylor University, and La Jolla Presbyterian Church, and individually maintain private studios in violin and organ.
Ms. Chen and Mr. Wong recorded their duo debut album, Treasures from the East: A Collection of Asian Folksongs, for the Con Brio Recordings label.

Chelsea Chen, Lewis Wong
http://www.chelseachen.com/wp-content/uploads/2012/08/8631small1.jpg

Organist and composer Chelsea Chen (b. 1983) is internationally renowned for her concerts of "rare musicality" and "lovely lyrical grandeur," and a compositional style that is "charming" and "irresistible" (Los Angeles Times).
One of the most promising organists of her generation, Chelsea Chen has electrified audiences throughout the United States, Europe, Australia, and Asia in venues such as Singapore's Esplanade, Hong Kong's Cultural Centre, Kishinev's National Organ Hall, and Philadelphia's Kimmel Center. As a composer she is broadening the classical organ repertoire with her own works based on Asian folksongs.

Ms. Chen has soloed with orchestras throughout the world including the Wuhan Philharmonic in China, the Jakarta Simfonia in Indonesia, and the Juilliard Percussion Orchestra in Lincoln Center's Alice Tully Hall. Committed to new music, she has premiered several works by Juilliard composers, Teddy Niedermaier and Ola Gjeilo, and Yale composer, Jordan Kuspa. Appearing in concert with Juilliard harpist Arielle as the ensemble Duo Mango, she has championed works by Paul Desenne, Yui Kitamura, and Roderick Gorby.

Ms. Chen has received acclaim as a composer since she premiered her own "Taiwanese Suite" (2003) and "Taiwan Tableaux" (2007) at the Spreckels Organ Pavilion. Recently her solo organ pieces have been performed in Canada and Taiwan, and her most recent concerto, "Jasmine Fantasy" (for violin, organ, and strings), has been performed by orchestras in the United States, China, and Indonesia. Her solo organ works were featured at the 2011 Region I/II and IV Conventions of the American Guild of Organists.
The recipient of the 2009 Lili Boulanger Memorial Award and winner of the 2005 Augustana/Reuter National Organ Competition, Ms. Chen is a graduate of Juilliard, where she received both her Bachelor's and Master's degrees. She was also a full scholarship recipient at Yale University, where she earned an Artist Diploma. Her major organ teachers include Thomas Murray, John Weaver, Paul Jacobs, Monte Maxwell and Leslie Robb, and her primary piano teachers include Baruch Arnon, Jane Bastien and Lori Bastien Vickers.

Ms. Chen has recorded multiple CDs: Reveries (2011) at Bethel University, Live at Heinz Chapel at the 2005 Convention of the American Institute of Organbuilders, and Treasures from the East with violinist Lewis Wong in 2010. Her playing has been aired on CNN.com, "Pipedreams" from American Public Media, Hawaii Public Radio, and Taiwan's Good News Radio. Her compositions are exclusively available from Wayne Leupold Editions, Inc.

Ms. Chen is Artist-in-Residence at the Emmanuel Presbyterian Church in Manhattan, and a member of Duo Wong-Chen with violinist Lewis Wong.

Chelsea Chen Plays Vierne's Naiades from Pieces de Fantaisie live at Heinz Chapel in Pittsburgh (2007)
http://www.youtube.com/watch?v=6CAaQie1_P4

Lewis Wong
Praised by the Göttingen Tageblatt for "Sein satter, seine Virtuosität, seine straffe, zielstrebige Gestaltung (his sound, virtuosity and taut, purposeful interpretations), Dr. Lewis Wong enjoys a tripartite career as soloist, ensemblist, and educator.

As soloist, he appears regularly with orchestras of different countries. Recent invitations have come internationally from the Orchester Göttinger Musikfreunde, Moldova Symphony, Taipei Chamber Orchestra, and domestically from orchestras in California, Minnesota, New Jersey, New York, and Texas. He has given recitals in venues such as New York's Carnegie Recital Hall, the Scots Kirk Paris, Leipzig's Mendelssohn-Haus, Prague's Bertramka W.A. Mozart Museum, and Amsterdam's Galerie Wilhelmina.

Also, Lewis Wong takes great joy in making music with others. Presently, he is Concertmaster of the Hudson Symphony Orchestra, and leader of the Manhattan Chamber Soloists, a flexible chamber ensemble whose tours in the U.S. and abroad have lead to acclaim. Before his tenure with these ensembles, he was a violinist in the Trio d'Exuberance, a violin-clarinet-piano group that served as Artists-in-Residence at Trocaire College in Buffalo, NY and a fan favorite to the audiences of the East Coast.

A dedicated pedagogue, he has given guest lectures/mastersclasses at institutions, including the Juilliard School, Southeastern University and the Aula des Theodor-Heuss. His students have earned prizes in competitions and places in local orchestras. Blessed with a rich educational pedigree, Dr. Wong is committed to handing down the wisdom of his mentors, representatives to the very best of the Auer, Flesch and Galamian traditions.

Dr. Lewis Wong is currently a Visiting Artist-in-Residence of Violin, Viola and Chamber Music at the State University of New York at Stony Brook.

Lewis Wong and Chelsea Chen perform excerpts from "Eastern Treasures" CD launch mini concert. (Jan. 2012)
http://www.youtube.com/watch?v=VmV32WrLzgM