The Barney Cayouette Duo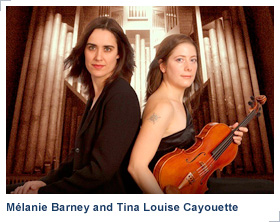 Mélanie Barney's virtuosity and remarkable technical talent, paired with her great sensitivity led her to distinguish herself from the beginnings of her career. Combining the great symphonic repertoire with more contemporary works, she breathes new life into organ repertoire, exploring varied styles such as film scores, orchestral works and tango. Mélanie was awarded First Prize with Great Distinction in 2002 at the conclusion of her organ studies under the tutelage of Jean Le Buis at the Conservatoire de musique de Montréal. Following this, she pursued advanced studies with Pierre Perdigon, Georges Bessonnet, Alan Morrison and Jean-Guy Proulx. The recipient of many bursaries and prizes, including: the Wilfrid-Pelletier, Les Amis de l'Art, McAbbie and Canimex foundations, and the UQAM Faculty of Music for the bachelor's degree program in music education, the Radio-Canada Jeunes Artistes competition (2003) and first prize in organ at the Canadian Music Competition (2001-2002). She was selected three times for the media campaign Adopt a Musician, which included interviews on the Canöe Internet site (2008), Radio-Canada (2010), CNV radio (2011). Mélanie Barney has also taken part in numerous recordings involving choirs, orchestras and chamber-music ensembles. An accomplished soloist and accompanist, both on the organ and the piano, she has performed in France, Germany, Belgium and the United States. In 2009, Mélanie recorded Gustav Holst's The Planets with Buzz Brass in an organ and brass version. The album was nominated at the 2010 ADISQ Gala for classical album of the year in the soloist and small ensemble category and received critical acclaim from Le journal de Montréal and La Scena Musicale ( "A must, Indispensable, ******"). Since May 2012, Mélanie Barney has been the titular organist on the Casavant organ at St-Jérôme Cathedral in the Laurentians. Previously, from 1998 to 2012, she was the incumbent organist in Verdun's Notre-Dame-de-Lourdes church. This year, she released her first solo album, with the Fidelio label: "The Power of the Organ 2''.

Mélanie Barney performs Mars, The Bringer of War by Gustav Holst with BUZZ Brass Quintette
http://www.youtube.com/watch?v=aTd-Gd18nDE

Tina Louise Cayouette – Viola
Tina Louise Cayouette conjures up an equally beautiful sound, full and velvety viola sound (…) very emotional tone, where one can ascribe to nature'' The listener ''A spectacular end to this musical hour''Nord Info

With her imaginative interpretations and colourful palette, Canadian violist Tina Louise Cayouette captivates audiences. Innately communicative, she is establishing herself as a sought-after recitalist and chamber musician. Tina has given recitals across Quebec and has appeared as guest soloist working with conductor Jean-François Renaud in 2010. Creative and innovative, Tina has performed with a wide range of artists collaborating on original projects including: recitals with accordion and organ, electronic operas, contemporary dance projects, living art performances, visual arts events and has also premiered original Canadian works for viola. Launched internationally in 2010, Tina's debut album with Centaur Records is a collection of short chamber works for viola and piano by English composer Ralph Vaughan Williams. The Alberta born violist studied at Wilfrid Laurier University with Christine Vlajk, Université of Montreal with Jutta Puchammer, and furthered her study of the viola alongside chamber musician Jean MacRae. Tina is the recipient of a 2010 Artist Grant, 2009 Young Artist Grant and was a finalist for the Young Artist Prize, Culture Gala of the city of Longueuil, Québec.

Tina Lousie Cayouette in discussion of her performance of Ralph Vaughan Williams folk songs
http://www.youtube.com/watch?v=Wi7SszHwcnU