Karen Christianson – Organ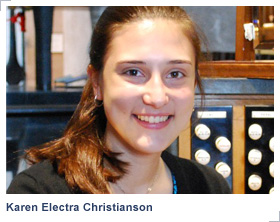 Karen Electra Christianson is a student at The Episcopal Academy in Newtown Square, Pennsylvania. Karen last performed in Toronto at Metropolitan United Church in 2009 at the age of 13. Since then, she has performed at numerous venues in the US, including the Princeton University Chapel, Adolphus Busch Hall at Harvard University, the Cathedral of Our Lady of the Angels in Los Angeles, Grace Cathedral and St. Mary's Cathedral in San Francisco, St. Philip's Cathedral in Atlanta, the Cathedral of St. John the Divine in New York City, and the National Cathedral in Washington, DC. Additionally, Karen has performed at several European venues, including Ely Cathedral, Coventry Cathedral, and Great St. Mary's Church in Cambridge, England, the Bovenkerk in Kampen, Netherlands, and St. Paul's Anglican Church in Athens, Greece. Karen has also been featured in several radio broadcasts in the US. In addition to her recent performance on "From the Top" on National Public Radio, Karen has appeared on Philadelphia radio stations WRTI and KYW, and the New Jersey Classical Network, WWFM. Karen studies organ with Alan Morrison, head of the organ department at the Curtis Institute of Music in Philadelphia.
For more information, see Karen's website at http://home.comcast.net/~karen.christianson.
Video clips from various recitals are archived at http://www.youtube.com/davidchristianson.

Ride in a High Speed Train by Ad Wammes and performed by Karen Christianson
http://www.youtube.com/watch?v=bmygJ5lobhs

Finale Symphony #6, C. M. Widor performed by Karen Christianson
http://www.youtube.com/watch?v=xYybRKKXJZU