James David Christie - Organ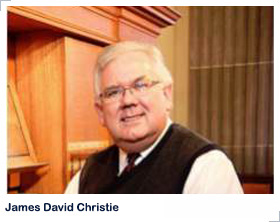 JAMES DAVID CHRISTIE has been internationally acclaimed as one of the finest organists of his generation. He has performed around the world with symphony orchestras and period instrument ensembles as well as in solo recitals. He was the 1979 First Prize winner of the Bruges (Belgium) International Organ Competition and was the first American ever to win First Prize in this prestigious competition; he was also the first person in the competition's eighteen-year history to win both the First Prize and the Prize of the Audience. James David Christie has served as Organist of the Boston Symphony Orchestra since 1978 and has performed and recorded with the major orchestras of Vienna, London, Dublin, Stuttgart, Koblentz, Paris, Philadelphia, San Francisco, San Diego, Seattle, Baltimore, New York, Boston, etc. He has given over fifty tours of Europe and performs regularly in Canada, Asia, Australia and Iceland. He is Music Director of Ensemble Abendmusik, a Boston-based period instrument orchestra and chorus specializing in sacred music of the 17th and 18th centuries. He has performed with many period instrument orchestras including the Academy of Ancient Music, the Bach Ensemble, Handel & Haydn Society, Boston Baroque, the New York Collegium, etc. He was awarded an honorary Doctor of Fine Arts degree from the New England School of Law for his outstanding contributions to the musical life of Boston and the New England Conservatory honored him with their Outstanding Alumni Award. He has served on international organ competition juries in Paris, St. Omer-Wasquehal, Chartres, Biarritz, St. Albans, Amsterdam, Lübeck, Bordeaux, Dublin, Worcester, Calgary, Montreal, Columbus, Dallas, Leipzig, Weimar-Merseburg, Speyer, Erfurt, Tokyo, Moscow, Kaliningrad, Astana, Lausanne, Pistoia, Boston and Bruges. His students have been competition prizewinners in North America, Europe, Japan and South Africa. James David Christie has recorded for Decca, Philips, Nonesuch, JAV, Northeastern, Arabesque, Denon, RCA, Dorian, Naxos, Bridge and GM and has received several awards for his solo recordings, including the Preis der Deutschen Schallplatten Kritik and the Magazine d'Orgue: Coup de Coeur.
James David Christie holds positions as Chair and Professor of Organ at the Oberlin College Conservatory of Music, Oberlin, OH, Distinguished Artist in Residence at the College of the Holy Cross, Worcester, MA, Chair and serves as College Organist at Wellesley College, Wellesley, MA. He has previously held positions at Boston Conservatory, Harvard University, M.I.T. and Boston University. In the fall of 2010, James David Christie was on sabbatical in Paris, France, where he served as visiting Professor of Organ at the Paris Conservatory. He exchanged positions with Notre Dame Cathedral organist, Olivier Latry, who was in residence at Oberlin for the fall semester. He was recently the featured artist and teacher for the Académie "Dom Bedos" in Bordeaux on the restored Dom Bedos organ at the Église de Sainte Croix and gave master classes at the Chateau de Versailles and at the Conservatoire à Rayonnement Régional de Paris. He performed solo recitals in Toulouse, Reims and several in Paris, including the final Tuesday Evening Artists Concert at Notre Dame Cathedral. In March 2012, he performed two sold-out dedication concerts on the new Casavant organ at the Kauffman Center Concert Hall, Kansas City, MO; he served as consultant for the building of the organ. He has served on international competition juries in Erfurt-Merseburg-Weimar (Germany) and the First Canadian International Organ Competition in Montreal and will return to Montreal for the jury of the 2014 CIOC. In 2014, James David Christie will also serve on juries for the Sweelinck International Organ Competition in Amsterdam, the Pistoia Agati-Tronci International Organ Competition in Italy, the Grand Prix du Chartres which will be held at Notre Dame Cathedral in Paris, France, and he will serve as president of the jury of the Pierre de Manchicourt International Organ Competition in Béthune, France. He recently toured Japan performing Bach's monumental Art of Fugue. He was the American patron of the National French Jehan Alain Centenary Festival in Saint–Germain-en-Laye, France. He teaches and performs regularly at the McGill Summer Organ Academy in Montreal, Canada, Musica Antiqua Bolzano (Italy), the Oberlin Organ Academy for High School Students and the Oberlin Baroque Performance Institute. This past season, he gave concerts in Iceland, Monaco, France, Belgium, the Netherlands, Germany, Italy and Estonia. He recently recorded four CDs of the organ works of Johann Pachelbel on three historic organs in Thuringia (Germany) for CPO, Germany. In June of 2014, James David Christie will open the National Convention of the American Guild of Organists at Symphony Hall, Boston, with a program of five major works for organ and orchestra.