Witold Zalewski - Organ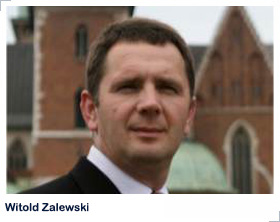 Witold Zalewski graduated in 1992 from the Academy of Music in Krakow after studying organ performance with Professor Jan Jargoñ. He honed his skills during courses in organ music interpretation, having also studied with J. Laukvik, G. Schneider and J. Guillou. Since 1995, Witold Zalewski has been Principal organist of Wawel Royal Cathedral, Krakow, Poland. He has been a member of the Church Music Council of the Metropolitan Curia of Krakow since 1998. He was the organist of liturgies conducted by the Holy Fathers John Paul II and Benedict XVI during their papal pilgrimages – in the Wawel Royal Cathedral, the Łagiewniki Sanctuary and on Krakow Commons.
He is the author of the Church Songbook, published by PWM edition and a coauthor or coeditor of numerous other publications, including the Wawel Songbook. Mr. Zalewski gives concerts as a soloist and chamber music player in Poland and abroad (including the Czech Republic, Germany, Spain, Finland, Russia, Israel, Switzerland, United States of America, Canada, Japan, Brazil, Argentina and Uruguay).
Witold Zalewski is the originator and director of the International Organ Music Festivals in Zakopane, Oswiecim, Skawina, Nowy Targ and Wadowice. He was awarded the "Pro Ecclesia et Pontifice" from Pope Benedict XVI.
Polish
Witold Zalewski, 1992 roku ukończył Akademię Muzyczną w Krakowie – w klasie organów prof. Jana Jargonia. Swoje umiejętności doskonalił podczas kursów interpretacji muzyki organowej prowadzonych m.in. przez J. Laukvika i G. Schneidera i J. Guillou.
Od roku 1995 Witold Zalewski pełni funkcję I organisty w Kró¬lewskiej Katedrze na Wawelu. Jako solista koncertuje regularnie w najważniejszych festiwalach w kraju (m.in.: Oliwa, Frombork, Kamień Pomorski, św. Lipka, Leżajsk) i za granicą. Wystąpił w katedrze św. Patryka na Manhattanie w Nowym Jorku, Tokio Metroplitan Art Space, Nativity Church w Betlejem oraz m.in: w Buenos Aires, Montevideo, Rio de Janeiro, Toronto, Jerozolimie, Irkucku, Istambule i Moskwie.
Jest wykładowcą w Międzyuczelnianym Instytucie Muzyki Kościelnej w Krakowie, gdzie prowadzi zajęcia z praktyki liturgicznej oraz organów.
Od roku 1998 jest członkiem Komisji Muzyki Kościelnej Kurii Metropolitalnej w Krakowie. W czasie pielgrzymek papieskich pełnił rolę organisty. Witold Zalewski jest autorem Śpiewnika pieśni kościelnych (PWM) oraz współredaktorem i współautorem wielu innych publikacji (m.in.: Śpiewnik Wawelski). Zajmuje się propagowaniem muzyki organowej, poprzez współorganizowanie wielu festiwalu i koncertów na terenie Południowej Polski.
W roku 2011 wyróżniony został przez papieża Benedykta XVI odznaczeniem "Proeclesia et Pontifice".
W roku 2012 otrzymał stopień doktora sztuki.