Shawn Potter - Organ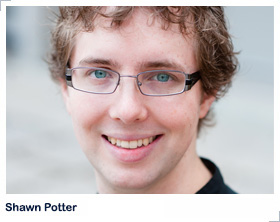 Shawn Potter holds a master's degree in organ performance from McGill University's Schulich School of Music, where he studied organ with Hans-Ola Ericsson and John Grew, and harpsichord and continuo with Hank Knox.
Originally from Nova Scotia, Shawn graduated in 2010 with a bachelor's degree in music from Mount Allison University, where he held a Canadian Merit National Scholarship as well as a Mount Allison Bell Scholarship.
He has held numerous grants and fellowships including a Social Sciences and Humanities Research Council (SSHRC) grant, allowing him to pursue a wide variety of interests, ranging from 17th century North German music to the organ works of Olivier Messiaen. Shawn is the first prize winner of the 2013 Royal Canadian College of Organists National Competition.
Shawn has held organ scholar positions in Montreal at both Christ Church Cathedral and the church of St John the Evangelist, and is currently the Director of Music at First Baptist Church, Ottawa.